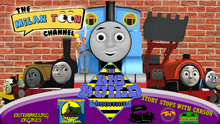 The Big Build Marathon was an event held on Friday June 29th, 2018. Running at four hours, it marked the world premieres of a brand-new Thomas - The Trainz Adventures episode, the half-hour Mainland Presents: Railway Escapades special, and Thomas the Building Engine.
Programming
5:00pm - Trainz Time With TheGermanOfSodor
5:30pm - Thomas - The Trainz Adventures: "Two Left Buffers (world premiere)/Lazy Dennis"
6:00pm - Enterprising Engines: "Blunderbuss/Snow Problem"
6:30pm - Story Stops with Carson marathon
7:30pm - Mainland's Railway Escapades (World Premiere Special)
8:00pm - Tillie to the Rescue/Casey Jr's Mail Run
9:00pm - Thomas the Building Engine (World Premiere)
Trivia
Technically, the marathon marked several firsts for The MilanToon Channel:

The first marathon to feature world premieres outside of the channel.
The first to utilize customized screen bugs for each block.
The first marathon to exceed the usual two-and-a-half-hour limit.

The marathon was originally planned to be entitled The On the Road Marathon (with the lead-up to Thomas the Building Engine being all four preceding Crotoonia's On the Road videos), but was scrapped when the event was cancelled.
The marathon branding and bumpers were loosely inspired by The Super Spongey Square Games (a one-hour SpongeBob Squarepants premiere event) and The Lost Eds' Marathon (a marathon leading up to a "lost" episode of Ed, Edd, 'n Eddy).
This is the highest viewed marathon/stream on the channel to date, with a record 203 peak in viewership during its live broadcast.
Community content is available under
CC-BY-SA
unless otherwise noted.