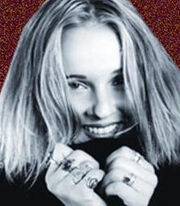 Phillipa Alexander (or sometimes known as Philippa Alexander) is a singer and voice actress.
Even though she was born in England she grew up in California in the US, leading to her working on both sides of the Atlantic.
She is known for voicing Calley in the US dub of Chuggington and was brought back to reprise that role for the first episode Tillie to The Rescue. 
She has also voiced Ursula in Xenoblade Chronicles 2, Gummy from the Gummy Bear Show, Amy Gonzalez, Samantha Goldwing and Tess in the Spanish animated film Capture The Flag, Kate in Mirror's Edge and Jean Greyerl in Professor Layton vs Ace Attroney.
She's also appeared in Thunderbirds Are Go, the US dub of Tickety Toc, Gray Matter, The Moshi Monsters Movie, Mama Mirabelle's Home Movies and Juiced.
Character she voices
Other Work
(Actor)
Juiced (Video Game) - Additional Voices (2005, voice director: Mark Estdale, THQ)
Mama Mirabelle's Home Movies (TV Series) - Karla (2007-2008, voice directors: Susan Blu, David Hodge, Kent W. Meredith, CBeebies & National Gerographic)
Mirror's Edge (Video Game) - Kate (2008, Electronic Arts and DICE)
Gray Mater (Video Game) - Samantha Everett (2010, voice director: Lorelei King, VIVA Media)
Chase the Blues Away (Short Film) - Mimi (2011)
Chuggington (TV Series) - Calley (US Dub) (2008-Present, voice director: Scott Sheratt, CBeebies, Ludorum & Disney Junior)
Professor Layton vs Ace Attroney (Video Game) - Jean Greyerl (2012, Nintendo, Level 5 and Capcom)
Tickety Toc (TV Series) - Hopparoo (US Dub) - (2012, voice directors: Holly Gregory and Anna Starkey, The Foundation, FunnyFlux Entertainment, Zodiak Kids)
Moshi Monsters the Movie - Poppet (2013, Universal Pictures and Mind Candy)
Capture the Flag (Film) - Amy Gonzalez, Samantha Goldwing and Tess (2015, voice director: Kate Saxon, Paramount Pictures, 4 Cats Pictures, Lightbox Entertainment, Los Rockets AIE La Película, Telecinco Cinema, Telefonica Studios, Ikiru Films, AMC Networks International Iberia and Mediaset Spain)
Thomas Edison's Secret Lab (TV Series) - Angie (2015)
Thunderbirds Are Go (TV Series) - Ramirez (2016, voice director: Dave Peacock, ITV Studios Global Entertainment and Pukeko Pictures)
The Gummy Bear Show (Webseries) - Gummy (2016-2017)
Xenoblade Chronicles 2 (Video Game) - Ursula (2017, voice directors: Jimmy Livingstone and Matt Roberts, Nintendo and Monolith Soft)
SpacePOP (Film) - Athena (2017)