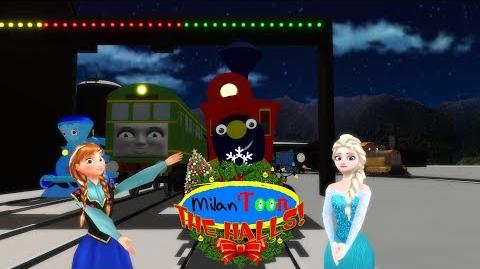 MilanToon the Halls was a two-and-a-half hour-long marathon event aired on December 22nd, 2017. Serving as the final "event" of the year, the event featured the premiere of Casey Jr's Mail Run, a marathon of the short-lived Milan's Ramblings series, a sneak preview at an upcoming Crotoonian Conversations special entitled Incidental Perfection, and several reruns of previously aired work.
Programming
7:00pm - "Enterprising Engines: Snow Blind"
7:30pm - Tillie to the Rescue
8:00pm - Milan's Ramblings Marathon
8:45pm - Crotoonia's Christmas Spirits (with Incidental Perfection sneak peek)
9:00pm - Casey Jr's Mail Run (world premiere)
Trivia
Incidental Perfection was supposed to be a feature on the marathon, but production delays pushed it into a Christmas 2018 release date.
Giveaways were held during the marathon, featuring merchandise from the channel's TeePublic shop.
Gallery
Community content is available under
CC-BY-SA
unless otherwise noted.