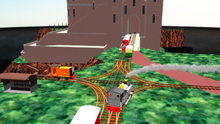 Gridinia Castle is a castellated manor located at Gridinia Bay. It is connected by rail through the Crotoonian Hills Narrow Gauge Railway.
History
One of the oldest-standing structures on Crotoonia (being built in 1782), Gridinia Castle was built as the manor of the original founding family of the settlement along the bay: the family of Jonathon Cherrywood Featherington. Serving as a safe haven for early settlers as their homes were being set up, the Featherington family (unusual for the time) were often open to hospitality for their settlers in the country, offering hot drink and food to those in need.
Many years later, the manor is owned and managed by the Crotoonian Historical Preservation Society, but the Featherington family's decedents still make decisions on what their ancestors would have wanted for redoing. It now stands as a National Historic Landmark in Crotoonia, and makes use to preserve the earliest history in Crotoonia, as well as providing comfort to those who need it. At the castle, there are 3 dining halls of various sizes, a private hotel for VIPs, an art gallery, lookout towers, an outdoor meeting ground and patio, and the narrow gauge railway has recently had rail lines built traveling to the castle via the viaduct, but not traveling straight thru it. The castle owns a few rolling stock, mainly coaches (for the visitors going to the castle) and maintenance cars.
Community content is available under
CC-BY-SA
unless otherwise noted.